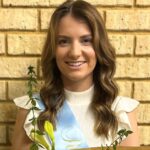 The Rural Ambassador Competition is a national competition aimed at young adults from rural areas who have a passion for living and working in their communities.  The competition aims to discover the next generation of rural leaders who have the desire to represent and promote their community, their region and their state.
This year, Jessica Walmsley Fish will represent the Waroona Agricultural Society at the South West Zone finals for the chance to represent the Waroona Agricultural Society and the South West Zone at the State Titles in Perth later this year.  
A dinner was held recently to formally induct  Jessica as the 2023 Rural Ambassador representative for the Waroona Agricultural Society and the Waroona Show.  Jessica addressed the gathering with her views on what the position meant to her and was presented with a sash and flowers by Society President Nicholas McLarty.  Jessica has been a volunteer member of the Waroona Agricultural Society for many years citing the examples set down by her parents and grandparents as the motivation for her to be involved in volunteering.