The Rural Ambassador Award is a National Competition aimed at young adults who have a passion for living and working in rural communities and a willingness to promote what they are about.
The purpose of the competition is to uncover the next generation of rural leaders who have the desire to represent and promote their community, their region and their state. The WA Rural Ambassador will represent RASWA at selected events with an agricultural and education focus, and compete in the national Rural Ambassador competition. To be eligible to enter, candidates just need to have the desire to stand up for Rural Australia, have a basic agricultural and rural knowledge, and be prepared to 'have a go'. They will experience some tough competition, make lifelong friends and have a damn good time.
The Waroona Agricultural Society is very proud to present: "Jessica Walmsley Fish" Waroona Show 2023 Rural Ambassador.
Jessica Walmsley Fish
z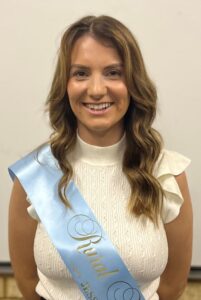 Jessica grew up on the family farms at Yarloop and Coolup and now works as a primary school educator at Frederick Irwin Anglican School.  Jessica is also mother to 2 year old Adeline and is married to  Cory Fish. Jessica has grown up in a family of volunteers and has learnt the values of volunteering from her parents and grandparents.  The Walmsley family have been involved with the Waroona Show as far back as Jessica's Great, Great, Great Grandfather George Walmsley Senior and there are five members of the Walmsley family on the Waroona Agricultural Society Life Membership Honour Board.  Jessica has assisted at the Waroona show in the roles of Chief Hall Steward as well other more informal roles around the grounds, learning from her parents Eric and Kylie, her grandfather Ross and other family members.  
Jessica understands that the success and wellbeing of communities relies on the kindness and generosity of people who volunteer. Understanding the importance of this ensures the longevity of the community. Her involvement within the Waroona Agricultural Show community has held many facets,  starting as an entrant in the Children's Hall, competing in the Pony Club Classes, testing the enjoyment levels and scream-ability on the rides within Side Show Alley and move recently, becoming part of the Waroona Agricultural Committee to assist in judging the Trade Display, and Chief Hall Steward.
Jessica has been part of the Waroona and Mandurah Basketball Associations and assisted with coaching and umpiring. She has also coordinated and assisted in events held at the Mandurah Wildlife Park and is a member of the Boar Swamp and Coolup Campdraft Clubs.  
Jessica and her growing family continue to live on the family farm where Jessica is able to be involved with her love of horse riding including competing in the sport of  Campdrafting alongside her father Eric and brother Jacob.  Jessica also enjoys Pilates, water skiing and wakeboarding and has a love of photography.  
One of Jessica's life goals is to own her own farming property with her husband with  the aim to breed cattle and give their children the same country lifestyle that she has been fortunate to enjoy.  
For as long as she can remember, Jessica was always told to, "Do your best," or, "Never settle for anything less than you deserve." Jessica's passion and love are for children and teaching. As a teacher she has taught in many different schools, countries and diverse socio-economic communities, from Albany to Thailand to Meekatharra and several other schools. These experiences have contributed to her understanding of the needs and the prevalent differences worldwide. Jessica believes that her agricultural knowledge and background allows her to build a strong understanding of how to address the need for change. 
Jessica is a highly experienced Proficient Primary School educator at Frederick Irwin Anglican School and was awarded the PESTA WA Premier HPE Graduate Aware for Murdoch University at the time of her graduation with a Bachelor's Degree.   She hopes to one day become a senior teacher and then move into an administrative role supporting student education. 
Jessica is very committed to improving mental health particularly within the farming community.  She believes that attention must be directed towards the younger generation. With the increased demand for mental health support, practises and programs must be implemented and introduced into schools. These programs would educate all children on skills and strategies to manage mental health difficulties. Agricultural schools should be the first to target such programs as their students are more likely to enter a profession in the agricultural industry. 
As a Rural Ambassador,  Jessica will continue to work on improving her leadership skills, broadening her communications network and developing her understanding of the agricultural industry. She will then apply this to her profession to improve areas of need.  She also recognises the need to maintain and support youth inclusion to ensure the longevity of Agricultural Societies.  Societies such as Waroona, provide the fundamental basis and tools for the sharing of knowledge of Agriculture and the promotion of rural towns to the wider community.  Through her school and education connections, she aims to inspire others to volunteer for their local clubs, agricultural communities and other volunteer organisations.  
"Holly Snell"
2022 Waroona Show & South West Zone Rural Ambassador  & runner up in the State Titles.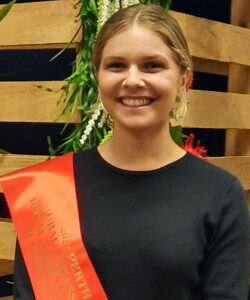 21 year old Holly grew up on her family's farm at Waroona and works as an apprentice mechanical fitter at Alcoa.  Holly  is also part way through completing a Bachelor of Agriculture Degree through Charles Sturt University.  Holly's ambition is to one day own or manage her own farming property.  Growing up on the family farm in Waroona and spending time on their cattle station in the North of the State, Holly has had the opportunity to gain loads of experience in the Agricultural industry. Mustering cattle and sheep, helping in the yards with drafting, drenching and marking, administering vaccines and drench, driving farm machinery, fencing and doing bore runs to make sure that troughs are clean and livestock watered is just a normal part of life for Holly.  Her schooling was completed at Mandurah Catholic College and she was Head Prefect in 2018. During her final two years at school, Holly took part in the school volunteer trip to Flores, Indonesia; received a scholarship to spend two weeks in Yosemite National Park, California, to undertake biological field research was a Rotary exchange student to northern Italy in 2017 and  represented in interschool field hockey and swimming competitions.
Holly is an avid volunteer and was a founding member of the Waroona Leo's club from 2016-2018. She has also given five years of service for the Waroona West Volunteer Bushfire Brigade, which involves attending meetings and training sessions, volunteering on the Waroona show gates each year, being on call when rostered on weekends and attending bushfire callouts where she is  required to communicate via two-way and hand signals, work in a team to extinguish the fire and assist in the driving and refilling of the light tanker. Holly and her family are also members of the Waroona Agricultural Society and many members of her family have been involved with the Annual Show over several generations.
Holly's passions and interests include gardening- growing fruits, veggies and flowers; caring for pets- chickens, ducks, poddy calves, dogs and cats; working on the family farm outside of her full time job; travelling- especially throughout country WA, reading, cooking, playing sports- women's footy and basketball, water sports- wakeboarding and skiing. She loves bushwalking and  native Australian plants and flowers, from which she is able to create beautiful flower arrangements.  She also has a talent for  creating recycled rustic homewares, signs and garden ornaments from old wood and scrap metal as well as drawing and painting.
Holly's short term goals are to complete her Mechanical Fitter trade next year and her  Bachelor or Agriculture degree so that she can have a solid foundation of skills and knowledge for her long term goals.  She then plans to travel around Australia and other countries working of farms and cattle stations, picking up new skills and experiences as she goes.  Her end goal is to one day own and manage a farm or cattle station in WA where she can incorporate the skills she has gained through her studies and travels.
The Waroona Agricultural Society congratulates Holly on becoming our 2022 Rural Ambassador and the runner up  State RASWA Rural Ambassador for 2022.
"JACOB WALMSLEY"
2021 Waroona Show Rural Ambassador and South West Rural Ambassador
At 24, Jacob has a sound background in Agriculture. He has spent most of his working career at his family farm in West Coolup where along with his parents Eric and Kylie and grandfather Ross (now passed on) run cattle and sheep.  Working closely with respected farmers, his practices have been well developed for both intensive and pastoral agricultural farming in Northern Australia, Kimberleys, central Australia and the Southwest. His farming attributes extend to the operation of various types of farm equipment, loaders and graders. A more recent passion and ambition is to work towards improved genetics and herd management in local and regional cattle herds in W.A. Jacob undertook a two year training program, and is the only non – vet to be certified & authorised under the WA Veterinary Board, to carry out Bovine pregnancy testing. He regularly contracts to farmers throughout the southwest testing herds, doing both manual and ultrasound   pregnancy testing. He is using this knowledge and skill to improve his own farm herd to maximise profits and return.  Jacob's strong interest in Camp drafting has taken him to a highly competitive level in W.A, travelling throughout the state to compete in regional drafts, including being a WA Youth representative in 2016. Ground stewarding at the Waroona Show for the past 5 years and involvement from a very young age has demonstrated Jacob's strong connection with the Waroona Agricultural Society. His knowledge of the grounds' setup, reliability and youth are a valuable asset to the Committee in preparing for the onset of 18,000 visitors on Show Day.  Jacobs connection to the Ag society became a natural progression given the family history. Both of his parents are from families with a long affiliation with Agricultural societies.  Jacob's father, grandfather and great grandfather all served many positions with the Waroona Ag Society. The Waroona Agricultural Society committee is very appreciative to Jacob for his contribution to the community and congratulates him on representing Waroona and the South West region, 2021.
WINNER: WA State Rural Ambassador – Mackenzie Walmsley 2019 -2020
Mackenzie Walmsley is the 2019-2020 Western Australian State Rural Ambassador as well as the Waroona Agricultural Society Rural Ambassador and South West Regional Representative.  Mackenzie will represent Western Australia at the 2021 Australasian Rural Ambassador competition in the foreseeable future.
"During my term, I am continually given the opportunity to meet and network with like-minded representatives from around the state and country in the agricultural and show movement industries. Since being the State Rural Ambassador, I have attended several WA country agricultural shows including the Collie and Bridgetown shows where I had the opportunity to meet fellow show volunteers, participate in ceremonies and partake in judging of competitions.  I also volunteered for the Wagin Woolorama as part of the Young Farmers Challenge orchestrated by the NextGen WA team, working as a judge for the active competition. In January 2020, RASWA kindly sponsored my travel, accommodation and placement at the Agricultural Shows of Australia Inaugural Conference in the Gold Coast. The conference consisted of three packed in days involving a range of informative guest speakers, presentations, networking events, a Gala Dinner and interactive Q+As. 14 of us were from WA, with 286 attendees from Australia, New Zealand and the US.
 This was an incredible opportunity as there were over 200 people coming together to discuss the value of our Ag shows and how we can remain sustainable for future generations, with an emphasis on retaining youth volunteering. All the conference topics were diverse and allowed everyone to take something back to improve on for their own show. The discussion topics included tips on securing sponsorships, managing leadership transitions, insurance and risk management, how to write the perfect grant application, why a biosecurity management plan is important for Ag shows, how to manage online threats and why animal welfare communication plans are important. Taking part in this conference has afforded me some new friends around the country. From this opportunity, I have been approached to contribute in establishing a new   Committee called NextGenWA, a youth committee who advocate for the importance of agricultural shows in WA.  To learn from other states' experiences with NextGen committees, I have also taken part in several online conferences and meetings, learning from like minded volunteers. I am very pleased to be a part of this and hope to make a significant contribution, an experience that is all thanks to the Rural Ambassador program. During my term, I have also attended RASWA Committee meetings in Perth, learning the dynamics of a much larger and longer event, being the Perth Royal Show. Prior to the COVID events, I was also attending Agricultural industry themed social networking events. I was also a guest presentation speaker at the RASWA State Conference in February 2020 talking about the Rural Ambassador program and the future intentions of NextGenWA. The Rural Ambassador program has provided rewarding prospects in event planning, public speaking, networking and education that I am incredibly grateful for and I look forward to the ongoing opportunities throughout the year. If you have ever wanted to take part in volunteering, look at being part of your local agricultural show movement. It is a positive and rewarding experience! We are so fortunate to have the opportunity to have our 90th Waroona Agricultural Show this year, particularly given the unpredictability and uncertainty that the last few years have presented, I hope we can deliver a fantastic and memorable event that is the highlight for the year for everyone!"

We are very proud of our young Rural Achievers below, many of whom are still involved with the running of the Waroona Show
*South West Zone finalists are shown with an asterisk alongside their name.
¹Due to the COVID-19 pandemic, there was no Rural Ambassador program for 2020.
2004 RICHARD POLLOCK
2005 No Entrant
2006 FIONA ELLIS
2007 STACEY DAVIS
2008 STACEY DAVIS
2009 – No Entrant
2010 *GAYELLE REYNOLDS
2011 – No Entrant
2012 NICHOLAS McLARTY
2013 ANTHONY SNELL
2014 KATLIN HULL
2015 *KIRSTIN WALLER
2016 KIRSTIN WALLER
2017 – No Entrant
2018 MACKENZIE WALMSLEY
2019 *MACKENZIE WALMSLEY
2020 – ¹No Entrant
2021 *JACOB WALMSLEY
2022 *HOLLY SNELL
2023 JESSICA WALMSLEY FISH
Miss Showgirl Competition
The Miss Show Girl Competition was introduced to the Perth Royal Show in 1974 by the Royal Agricultural Society.
The Waroona Agricultural Society  presented their first entrant to the competition in 1981 and  on five occasions a Waroona entrant has represented the South West Zone of Agricultural Societies.
*Those entrants who have represented the South West Zone are shown with an asterisk alongside their name.
1975 LYNETTE BOOKER
1976 MIRIAM MILLER
1977 MARGARET GRANTHAM
1978 *LOUISE DAVIS
1979 LYN JENKINSON
1980 *LEXIE TREVENAN
1981 *DIANE WATERS
1982 KAREN COLLINGS
1983 *JENNY KIRKHAM
1984 LISA MONAHAN
1985 ANNA CICOLARI
1986 LISA WILLIAMSON
1988 DIANNE ALEXANDER
1989 –
1990 NERIDA BLAKE
1991 REBECCA BENNETT
1992 *DEBORAH PITTER
1993 BELINDA McDONALD
1994 SUSAN DILLEY
1995 SHELLEY JELF
1996 *NATALIE SZKRABA
1997 MARIA FRANCO
1998 NATALIE LEWIS
1999 CHANTEL HILL