Holly to compete at State Finals
The Waroona Agricultural Society is proud to announce that our 2022 Rural Ambassador Holly Snell has been chosen to represent the South West Zone in the  State Rural Ambassador Awards.   The Rural Ambassador Competition is a national competition aimed at young adults from rural areas who have a passion for living and working in their communities.
This achievement was announced at the June meeting of the Waroona Agricultural Society.
Holly will now represent Waroona and the Southwest Zone at the State Finals to be held from the 23rd to  the 25th of September in conjunction with the Perth Royal Show.  During this time, Holly will join with other finalists from around the State where they will learn more about the program, attend functions and participate in competition, award, networking and educational events and activities at the Perth Royal Show.   
The South West Zone comprises a membership drawn from Agricultural Societies and festivals in the South West.  The competition aims to discover the next generation of rural leaders who have the desire to represent and promote their community, their region and their state.
21 year old Holly grew up on her family's farm at Waroona and works as an apprentice mechanical fitter at Alcoa.  Holly  is also part way through completing a Bachelor of Agriculture Degree through Charles Sturt University.  Holly's ambition is to one day own or manage her own farming property.  Growing up on the family farm in Waroona and spending time on their cattle station in the North of the State, Holly has had the opportunity to gain loads of experience in the Agricultural industry. 
The Waroona Agricultural Society congratulates Holly on becoming the 2022 South West Zone Rural Ambassador representative and we wish her well when she competes in the State competition.
Holly Snell to represent the South West Zone at the State Rural Ambassador Awards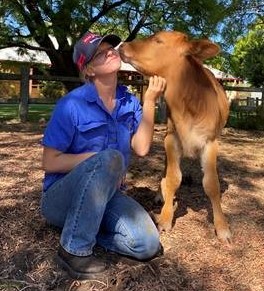 Holly and friend on the family farm