Grant News
The Waroona Agricultural Society have been well supported in 2023 with grant funding  to  purchase additional resources for  the 92nd Waroona Show and future shows.  Thankyou to the  following organisations:
Alcoa
Shire of Waroona
Bendigo Bank
Australian Government Volunteer Grant  (through Andrew Hastie)
Through these grants, we have purchased the following:
Two new laptop computers for our volunteer admin team
Portable Event Fencing for use at the gates and around the grounds
70 metres of Synthetic grass for use in Funland & under the circus tent
Accessible electric cable covers with ramps.
A big thankyou also to Mitre 10 Waroona and Waroona Rural Services for assisting us and all the volunteers who turned up to our busy bee last week.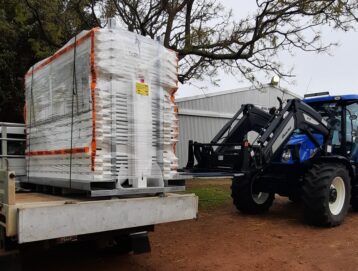 Unloading the new fencing