Rural Ambassador
WINNER: WA State Rural Ambassador – Mackenzie Walmsley
We are proud to announce that our 2019 Waroona Agricultural Society Rural Ambassador "Mackenzie Walmsley" has WON the 2019 State Rural Ambassador competition.  This was awarded at the Royal Agricultural Society Awards Dinner where Mackenzie gave a powerful speech on how we can use our local shows to improve education about the Agricultural Industry.
Mackenzie won the South West Zone competition in July and then went on to represent the zone at the State Awards where after two days of judging during the Perth Royal Show, she was successful in winning the prestigious State Award.
She will now represent Western Australia for the next 12 months and will also go  on to the Australasian Titles in New Zealand in 2020.  Mackenzie has been a volunteer at the Waroona Show for the past ten years and has taken on the role of Chief Childrens Hall Steward in 2019.  She is looking forward to using this opportunity to inspire and improve Agricultural Education for future generations.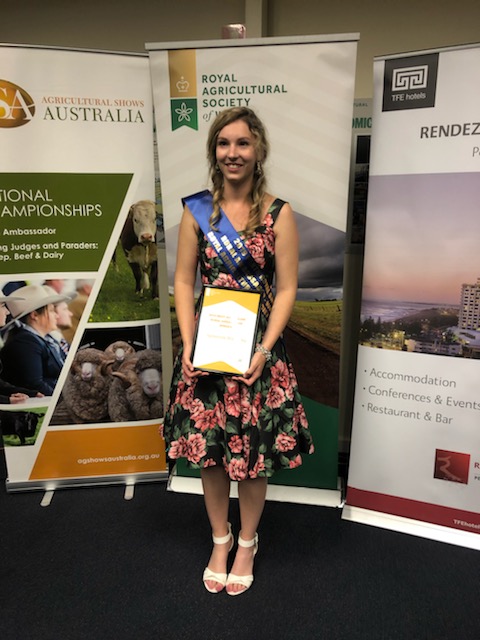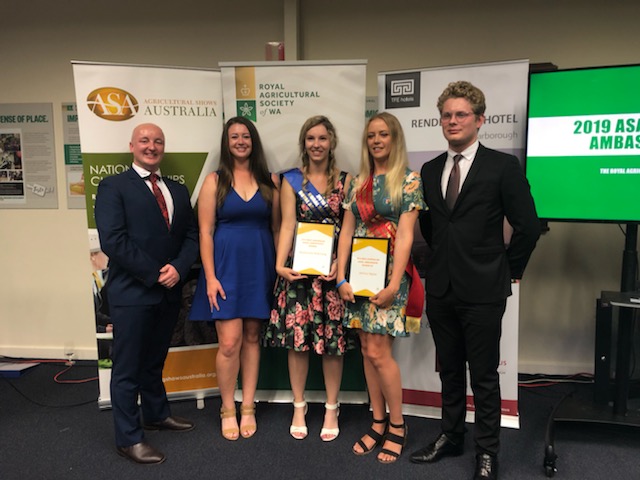 The Rural Ambassador Award is a National Competition aimed at young adults who have a passion for living and working in rural communities and a willingness to promote what they are about.
The purpose of the competition is to uncover a next generation of rural leaders who have the desire to represent and promote their community, their region and their state. The WA Rural Ambassador will represent RASWA at selected events with an agricultural and education focus, and compete in the national Rural Ambassador competition.
We are very proud of our young Rural Achievers below, many of whom are still involved with the running of the Waroona Show.
RURAL AMBASSADOR
| | |
| --- | --- |
| 2004 RICHARD POLLOCK | 2005 – No Entrant |
| 2006 FIONA ELLIS | 2007 STACEY DAVIS |
| 2008 STACEY DAVIS | 2009 – No Entrant |
| 2010 *GAYELLE REYNOLDS | 2011 – No Entrant |
| 2012 NICHOLAS McLARTY | 2013 ANTHONY SNELL |
| 2014 KATLIN HULL | 2015 *KIRSTIN WALLER |
| 2016 KIRSTIN WALLER | 2017 – No Entrant |
| 2018 MACKENZIE WALMSLEY | 2019 *MACKENZIE WALMSLEY |
WAROONA AGRICULTURAL SOCIETY – RURAL AMBASSADOR 2019 MACKENZIE WALMSLEY


Waroona Agricultural Society Rural Ambassador Entrant 2019
The Waroona Agricultural Society is very proud and pleased to announce that their 2019 Waroona Show Rural Ambassador, Mackenzie Walmsley, is the new South West Representative.  Family and Committee Members travelled to Collie on July 20th for the South West Judging where the nominees were interviewed by a panel of three judges on their agricultural knowledge, involvement in their local Agricultural Society, their ideas for the future of Agriculture and many other topics.  This was then followed by a presentation from Mackenzie and Mitchell East, the Rural Ambassador of Warren & Districts Agricultural Society.  As the representative of the South West, Mackenzie will now compete for the State Title of Rural Ambassador in September at the Royal Show.
Mackenzie is in her third year in the Town Planning industry in the Town of Cambridge having previously worked at the City of Swan.  Her employment has exposed her to an array of urban and rural issues and experiences including but not limited to, urban sprawl, land use conflict, community development and natural disaster mitigation (including flooding, stormwater drainage and bushfires).
She graduated in February 2018 from Curtin University with a First Class Honours Bachelor's Degree in Urban and Regional Planning. Her thesis paper in her fourth year focused on the importance of rural planning and protection of rural lands for agriculture and food security purposes, with a strong emphasis on the concept of 'paddock to plate' and how our food culture and connectivity has changed chronologically.
She was awarded a scholarship to travel to Toronto, Canada in July 2017 to undertake comparative research of the relationship between Toronto's agriculture and planning industries in comparison to our own as part of the thesis study. The scholarship was awarded to one student in sponsoring their international fieldwork and travel. In March 2018, she received 'the most significant contribution to the advancement of rural planning' prize for her thesis.
Mackenzie has been a steward for the Waroona Agricultural Society as of 10 years in 2019. This year she is taking on the opportunity as the Children's' Chief Hall Steward. Since becoming a part of the Children's Hall, she has enjoyed coming up with new creative entries for the children's section to continue keeping them entertained. In 2017, she introduced a farming and agriculture entry in the flower/vegetables section. In 2018, had an idea of a farm display to allow people who travel to the show to be immersed and interact with a rural and agriculture display. This year, the agricultural society is hoping to achieve this through a 'farm shed' that includes a farm animal display, drone videos of farms and rural properties around Waroona capturing different agricultural activities. In the Children's Section this year, Mackenzie has introduced a new class, being science and technology, to promote climate change, water, sustainability and the natural environment.
The Waroona Agricultural Society is very strong in welcoming new as well as young members to participate in the show. This year the Children's Hall will have six stewards alone who are under the age of 18, which is wonderful to see. Six Waroona Rural Ambassadors remain active as part of the Waroona Agricultural Committee, with one continuing a second year as the Junior Vice President.
Mackenzie wishes to continue educating the younger generation on the importance of agriculture and farming, specifically in relation to food production.
Mackenzie has lived on a farm in Waroona with her family her whole life.
The Waroona Agricultural Society wishes Mackenzie all the best for the next level of judging.
Mackenzie surrounded by Family and Waroona Agricultural Society Committee who supported her at the South West Finals at Collie
RURAL AMBASSADOR AWARDS COMPETITION:
The Rural Ambassador Competition is a National Competition aimed at young Rural Adults who have a passion for living and working in rural communities.
The competition aims to discover the next generation of rural leaders who have the desire to represent and promote their community, their region and their state. Successful entrants are given the opportunity to meet and network with like-minded representatives from around the state, around the country and around the Commonwealth. Where they will meet state and federal decision makers and leaders in agriculture and education and be able to input their point of view, ask the hard questions and make important contacts.
To be eligible to enter, candidates just need to have the desire to stand up for Rural Australia, have a basic agricultural and rural knowledge, and be prepared to 'have a go'. They will experience some tough competition, make lifelong friends and have a damn good time.
MISS SHOW GIRL COMPETITION
The Miss Show Girl Competition commenced in 1975 as a suggestion by the Royal Agricultural Society.
The Waroona entrant on five occasions has represented the South West Zone of Agricultural Societies.
*Those entrants who have represented the South West Zone are shown with an asterisk alongside their name.
| | |
| --- | --- |
| 1975 LYNETTE BOOKER | 1988 DIANNE ALEXANDER |
| 1976 MIRIAM MILLER | 1989 – |
| 1977 MARGARET GRANTHAM | 1990 NERIDA BLAKE |
| 1978 LOUISE DAVIS | 1991 REBECCA BENNETT |
| 1979 LYN JENKINSON | 1992 *DEBORAH PITTER |
| 1980 *LEXIE TREVENAN | 1993 BELINDA McDONALD |
| 1981 *DIANE WATERS | 1994 SUSAN DILLEY |
| 1982 KAREN COLLINGS | 1995 SHELLEY JELF |
| 1983 *JENNY KIRKHAM | 1996 *NATALIE SZKRABA |
| 1984 LISA MONAHAN | 1997 MARIA FRANCO |
| 1985 ANNA CICOLARI | 1998 NATALIE LEWIS |
| 1986 LISA WILLIAMSON | 1999 CHANTEL HILL |